Disclosure: This post is sponsored by HP.
The holidays are fast approaching and every year our family gets one big Christmas gift that we all can use. Whether it is a toy or gaming system or something we can do together as a family, it has become a holiday tradition. This year, we are looking at upgrading our family computer and HP has been our go-to brand for our computers. My daughter, husband and I all have HP laptops and we do have an HP desktop we are looking to upgrade.
Ladies and gentlemen, I introduce to you this beauty…HP Pavilion All-in-One Desktop (27-a040se).
We are looking at getting the HP Pavilion All-in-One Desktop. From doing homework to streaming videos, this touch screen, all-in-one desktop will definitely be the perfect fit for the many ways we want to use it. Its sleek design has a small footprint to take up less desk space. Its high quality HD display and dual front-firing speakers make it ideal for streaming.
And now, there is this awesome deal that you can snag up if you are interested in getting a new computer for your family too! Now get $150 Off Pavilion 27-a040se Touch All-in-One Desktop & Free Shipping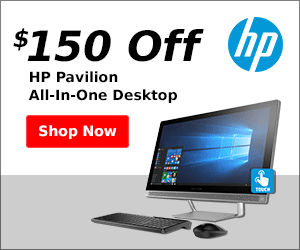 What I especially love about the HP Pavilion All-in-One Desktop is that it easily connects to wireless printers and Bluetooth devices. Plus, there's a built-in webcam to use for video chat! Score!
Here are some awesome features of the HP Pavilion All-in-One Desktop:
Windows 10 Home
Core i7-6700T 2.8GHz 35W; 4 Cores; HT enabled; 8MB Shared Cache; 14nm; Max Memory Speed: DDR4-2133/DDR3L-1600
RAM 16GB (2x8GB) DDR4 2133
27 FHD ZBD WLED Anti-Glare (1920×1080) IPS, 300nit, 14ms, 72%, LVDS
1TB 5400 RPM 2.5 SATA 6G w/ 8GB cache Solid State Hybrid Drive
What is something you look for when shopping for a computer?